LEARN Labrador Rescue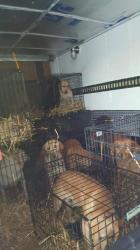 One of the great rescues we work with just rescued 24 labradors from a hoarding situation. They are need of foster homes, permanent homes, and donations. To learn more please visit their website at http://www.labadoption.org. Any help you can give will be greatly appreciated.
Labrador Education And Rescue Network (L.E.A.R.N.) is an ALL VOLUNTEER non-profit 501(c)3 organization committed to placing abandoned and unwanted Labrador Retrievers in new homes. L.E.A.R.N. serves Northern Illinois and Southern Wisconsin.
To find out more, please visit LEARN's website: